Artistic Programme
Theatre / Opera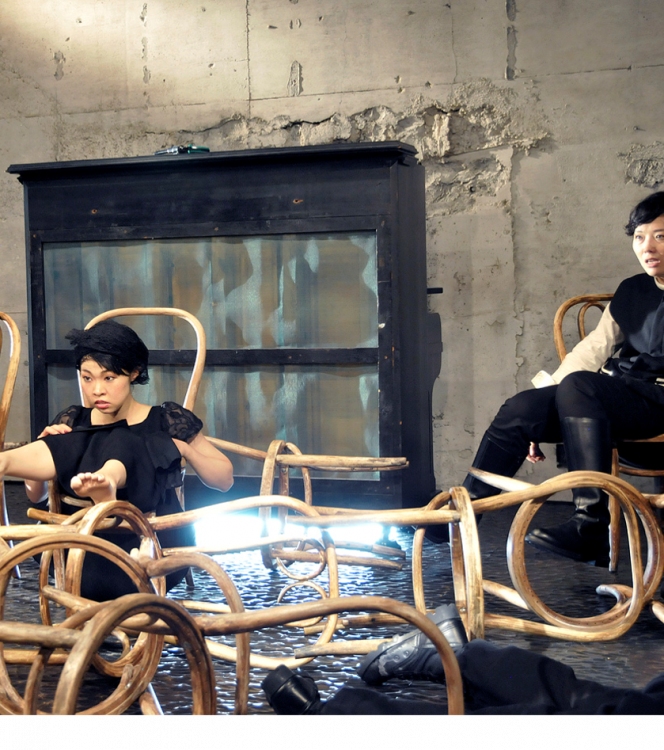 Scene from Brechtseller staged by Japanese theatre group CHITEN.
Direction: Motoi Miura
photo credits: Hisaki Matsumoto
WED, 19.06.2019, 8:30—9:45 p.m.

Schauspiel Leipzig, Diskothek
Tickets 17€ / reduced 12,50€ / students 11€
Brechtseller staged by Japanese theatre group CHITEN
Chiten's Brecht-productions are among the most exciting appropiations of Brecht's texts in contemporary theatre. They focus on Brecht's idea of a "separation of the elements" as well as the tradition of Japanese puppet theatre, "Bunraku". Outstanding is the handling of the voice: The voices in the theater of Motoi Miura and Chiten are physical, material and stirring. They are foreign voices. Their strangeness rises from the empty space between the elements of language, gesture and movement. It rises from an art of interspace.
CANCELLED
L'Africaine Grand Opéra by Giacomo Meyerbeer staged by Oper Halle
With the new production of The Africaine by Giacomo Meyerbeer, the Opera Halle devotes itself to his last masterpiece which premiered posthumously; all as part of the cooperation project I like Africa and Africa likes me – I like Europe and Europe likes me with the Oper Lübeck and the Fonds Doppelpass of the German Federal Cultural Foundation.
The European-African production team around Thomas Goerge, Lionel Somé, and Daniel Angermayr will be responsible for the "European" Africaine undergoing a scenic-musical process of overpainting in four independent versions in the new open-space stage Raumbühne BABYLON starting September 2018. Starting with a first enactment of the Africaine in September 2018 which cites historical ones from the 19th century, new versions and updates are created for every new block of the Raumbühne in January and March 2019 ending with an "Africanized" Africaine in June 2019.
Erscheinungen staged by Diederik Peeters
Belgian performance artist Diederik Peeters dusts off mankind's age-old desire for immortality. In "Erscheinungen", he takes another shot at finally and irrefutably proving the existence of ghosts. Navigating between history and science fiction, between skepticism and confidence, Peeters sets out on a ghost hunt that will lead him through dark and damp tunnels. Science blends with magic, technology with horror. And if he manages to complete his training as a medium in time, he promises to raise some historical characters from the dead and to send them on an expedition together with the audience.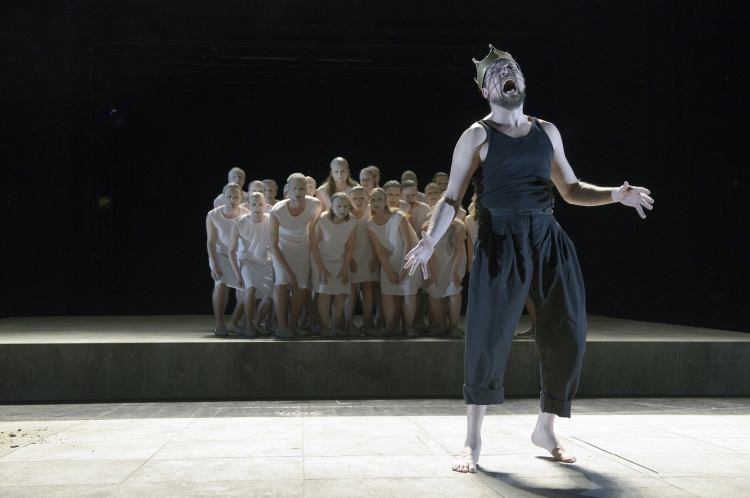 Scenes from Die Maßnahme / Die Perser, 2017.
Direction: Enrico Lübbe
photo credits: Bettina Stöß/Schauspiel Leipzig
SUN, 23.06.2019, 6:00—8:00 p.m.
with simultaneous translation ENG
Schauspiel Leipzig, Große Bühne
Tickets per category
1: 42€ / reduced 29€ / students 16€
2: 34€ / reduced 24€ / students 16€
3: 27€ / reduced 19€ / students 16€
unfortunately, no reduction for retirees/emeriti
Die Maßnahme / Die Perser by Bertolt Brecht/Hanns Eisler und Aischylos staged by Schauspiel Leipzig
A double exploration of two cornerstones of theatre history, both of them created during and shaped by extreme times. Two plays specific to their eras and two teaching plays, each in in its own particular way: Die Perser (The Persians), the oldest remaining drama of humankind and one of the few ancient tragedies that dealt with real events – and Die Maßnahme, the renowned co-operation between Bertolt Brecht and Hanns Eisler which served as a model for Brecht's theory of "Lehrstücke" (teaching plays). Their common ground lies in the topics of hubris and delusion. But between conflicting priorities of humanism and ideology, the weight of an idea and the value of an individual, they each develop quite a different way of examining the effects of political ideas and the awareness of individual suffering.
Performances & Scenic Presentations
WED, 19.06.2019, 4:00—5:00 p.m.
Leibniz-Forum
Eine Suche nach transkultureller Normalität (Searching for Transcultural Normality)
Theatre with locals and refugees
by Michelle Bray and actors of the Thespis-Zentrum, Bautzen
WED, 19.06.2019, 5:30—7:00 p.m.
FRI, 21.06.2019, 4:00—5:30 p.m.
starting point: Augustusplatz
Lass Dich / Mich verführen! (Let me seduce you!)
Brecht's Hauspostille haunts the city of Leipzig
Walk Performance and Audiotrack
by Günther Heeg, Sophia-Charlotte Reiser, Henrike Schmidt, Dana Soubh, Helena Wölfl (all CCT) and students of Leipzig Theatre Studies
THU, 20.06.2019, 8:30—9:30 p.m.
Schauspiel Leipzig, Großer Saal
Der Jasager / Der Neinsager
Work with didactic play in cooperation with Wilhelm-Ostwald-Gymnasium Leipzig
by Anja-Christin Winkler, Thomas Hertel and students
SAT, 22.06.2019, 4:30—5:30 p.m.
Schauspiel Leipzig, Diskothek
Liberté de circulation, toujours
Lecture Performance
by Kevin Rittberger
SAT, 22.06.2019, from 8:00 p.m.
Kirow-Kantine
STÄDTEBEWOHNER (Urban Residents)
Musical poems during the gala dinner
SAT, 22.06.2019, from 8:00 p.m.
Kirow-Kantine
AMONG US / UNTER UNS: INITIALS BB
Scenic interventions during the gala dinner
by friendly fire, free theatre and performance group from Leipzig
DAILY

Schauspiel Leipzig; Diskothek
Das beste Theater der WeltTM
Performance Installation
by Michael von zur Mühlen, Halle Opera, and students of Leipzig Theatre Studies
A particularly special event awaits you on the congresses last evening. The festive Gala Dinner offers an opportunity to let yourself be indulged by a four-course menu and an artistic programme.
In addition to Caribbean-Asian delicacies, you can expect an exciting artistic programme: Theatre educator and stage speaker Hans-Martin Ritter will accompany the evening with musical poems by Brecht in the course of his reading STÄDTEBEWOHNER. In addition, friendly fire — a free theatre and performance group from Leipzig — will present their newest artistic installation AMONG US / UNTER UNS: INITIALS BB.

Enjoy with us an exciting and culinarian evening that by music and performances until late night provides a befitting finale to our symposium!
SAT, 22.06.2019, 8:00 p.m.—1:00 a.m.

Kirow-Kantine
Tickets 55€
(including a 4-course-menu and accompanying wine)