Artistic Programme
Theatre / Opera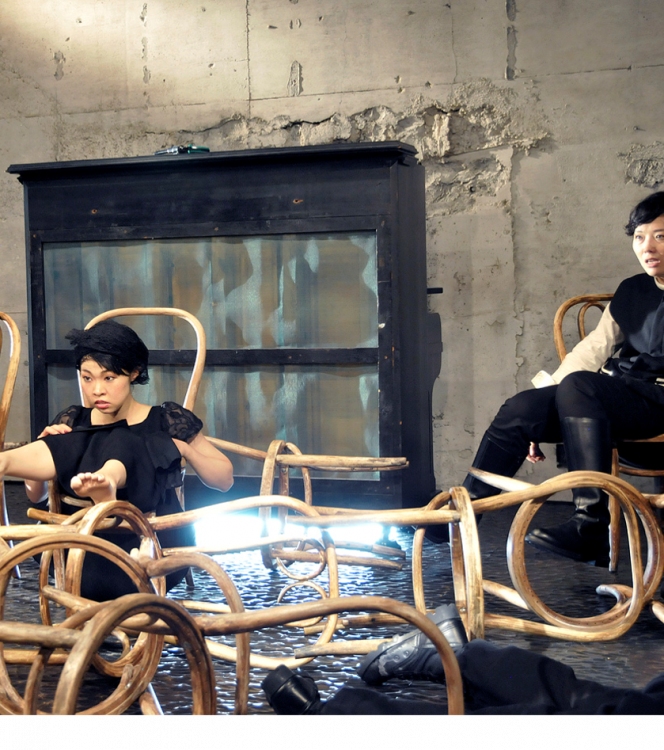 Scene from Brechtseller staged by Japanese theatre group CHITEN.
TUE, 18.06.2019 8:00—9:15 p.m.

WED, 19.06.2019 8:30—9:45 p.m.

Schauspiel Leipzig, Diskothek
Brechtseller staged by Japanese theatre group CHITEN Direction: Motoi Miura
Chiten's Brecht-productions are among the most exciting appropiations of Brecht's texts in contemporary theatre. They focus on Brecht's idea of a "separation of the elements" as well as the tradition of Japanese puppet theatre, "Bunraku". Outstanding is the handling of the voice: The voices in the theater of Motoi Miura and Chiten are physical, material and stirring. They are foreign voices. Their strangeness rises from the empty space between the elements of language, gesture and movement. It rises from an art of interspace.
L'Africaine Grand Opéra by Giacomo Meyerbeer staged by Oper Halle
Targeting overpowering with its opulent musical and scenic instruments, the Grand opéra, the French grand opera, belongs to the most spectacular in the history of opera and can be seen as a predecessor of blockbuster cinema. Its material are intensified historical conflicts which alternate story-telling between large tableaus of the choir, dramatic scenes pushing the vocal ability into an extreme, and epic arcs. Giacomo Meyerbeer frankly is its most important representative – a celebrity composer of his time.
With the new production of the Africaine by Giacomo Meyerbeer, the Opera Halle devotes itself to his last masterpiece which premiered posthumously; all as part of the cooperation project I like Africa and Africa likes me – I like Europe and Europe likes me with the Oper Lübeck and the Fonds Doppelpass of the German Federal Cultural Foundation.
A European explorer of the Renaissance, Vasco da Gama, failed at the circumnavigation of the Cape of Good Hope. Presumed dead, he returns to Lisbon with two bought African slaves representing his cultural superiority. They are supposed to serve as knowledgeable guides on his next conquests. At the same time, his mistress Inès is already affianced to a competitor. Moreover, Vasco has been withdrawn of all his political support for further expeditions. He revolts and ends up in jail for blasphemy. While incarcerated, the slave turns out to be an African queen called Sélika, who is secretly in love with her owner and willing to expose a safe sea route to him. Inès' marriage to his competitor Don Pedro gets Vasco out of jail, but he has to stand back and watch Don Pedro leading the next expedition to the Cape. Vasco follows the fleat with his own ship. At the Cape, it comes to a bloody revolt by the indigenous population to free their queen Sélika and her companion Nélusko. Vasco being an intruder is threatened with death and is only saved by Sélika's claiming him to be her husband. Suddenly, Inès reappears and Sélika realizes that Vasco will never be able to love her. She enables both of them to escape and kills herself by inhaling the poisonous scent of the manchineel tree.
The European-African production team around Thomas Goerge, Lionel Somé, and Daniel Angermayr will be responsible for the "European" Africaine undergoing a scenic-musical process of overpainting in four independent versions in the new open-space stage Raumbühne BABYLON starting September 2018. Starting with a first enactment of the Africaine in September 2018 which cites historical ones from the 19th century, new versions and updates are created for every new block of the Raumbühne in January and March 2019 ending with an "Africanized" Africaine in June 2019.
Conductor Michael Wendeberg
Music arrangements / Composition Richard van Schoor
Concept and Text Thomas Goerge, Michael v. zur Mühlen, Lionel Somé
Director and Video Thomas Goerge, Lionel Somé
Creator and set designer of the open-space stage Raumbühne BABYLON Sebastian Hannak
Costume designer Daniel Angermayr
Dramaturgy Michael v. zur Mühlen
Rehearsal Michael Wendeberg, Peter Schedding
Choir Rehearsal Markus Fischer
Director's Assistance Matthias Hüstebeck, Marlene Pawlak
Die Maßnahme / Die Perser by Bertolt Brecht/Hanns Eisler und Aischylos staged by Schauspiel Leipzig Direction: Enrico Lübbe
A double exploration of two cornerstones of theatre history, both of them created during and shaped by extreme times. Two plays specific to their eras and two teaching plays, each in in its own particular way: Die Perser (The Persians), the oldest remaining drama of humankind and one of the few ancient tragedies that dealt with real events – and Die Maßnahme, the renowned co-operation between Bertolt Brecht and Hanns Eisler which served as a model for Brecht's theory of "Lehrstücke" (teaching plays). Their common ground lies in the topics of hubris and delusion. But between conflicting priorities of humanism and ideology, the weight of an idea and the value of an individual, they each develop quite a different way of examining the effects of political ideas and the awareness of individual suffering.
Performances & Scenic Presentations
WED, 19.06.2019 4:00—5:00 p.m.
Leibniz-Forum
Welcome elsewhere
Theatre with locals and refugees
by Michelle Bray and actors of the Thespis-Zentrum, Bautzen
WED, 19.06.2019 5:30—7:00 p.m.
FRI, 21.06.2019 4:00—5:30 p.m.
starting point: Augustusplatz
Let me seduce you!
Brecht's Hauspostille haunts the city of Leipzig
Walk Performance and Audiotrack
by Günther Heeg, Sophia-Charlotte Reiser, Henrike Schmidt, Dana Soubh, Helena Wölfl (all CCT) and students of Leipzig Theatre Studies
THU, 20.06.2019 5:30—7:00 p.m.
Schauspiel Leipzig, Großer Saal
Der Jasager / Der Neinsager

Work with didactic play in cooperation with Wilhelm-Ostwald-Gymnasium Leipzig

by Anja-Christin Winkler, Thomas Hertel and students
SAT, 22.06.2019 4:30—5:30 p.m.
Paulinum
Liberté de circulation, toujours

Lecture Performance

by Kevin Rittberger
SAT, 22.06.2019 from 8:00 p.m.
Schaubühne Lindenfels
AMONG US / UNTER UNS: INITIALS BB

Scenic interventions during the gala dinner

by friendly fire, free theatre and performance group from Leipzig
The Brecht State
Performance Installation
by Michael von zur Mühlen, Halle Opera, and students of Leipzig Theatre Studies