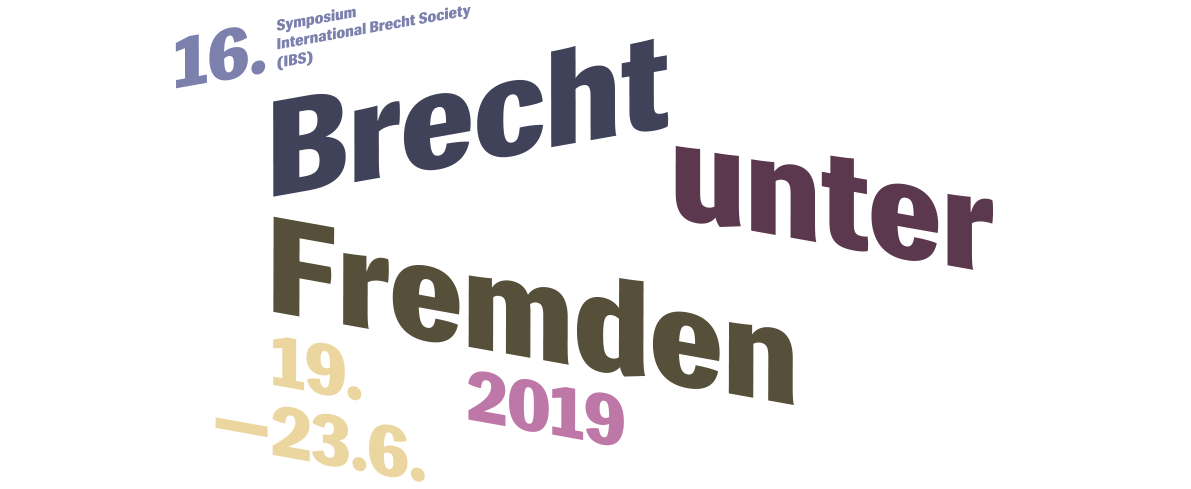 !!! CALL FOR PAPER
DEADLINE EXTENDED
UNTIL 31. AUGUST 2018 !!!
Symposium
Call for Papers
Bertolt Brecht was confronted with the alien throughout his life. He was exposed to it everywhere he lived, and in all venues he inhabited, he was as a stranger among strangers. Furthermore, he made the experience of the alien into the linchpin of his entire artistic project. Brecht's intensive confrontation with the alien is more relevant now than ever in an era when, on a daily basis, fear and hatred of foreigners continue to demonstrate a fundamental inability to live among strangers even (or especially) in a period of increasing globalization and of societies affected by migration. With Brecht though, we have to work toward a theory as well as a practice of a contemporary »theater among strangers.«
Programme
You will find the programme in advance of the symposium after the selection process. Information about keynotes, theatre productions, scenic presentations and workshops will be available from August 2018 on.
Abstracts
Abstracts—of no more than 1,500 characters—for presentations, panels, short workshops, lecture performances, and related formats—with a time limit of twenty minutes, plus ten minutes for discussion—may be sent, by August 31, 2018 (extended deadline), to: abstracts@brechtunterfremden.org.
The symposium organizers will be happy to consider proposals for entire panels (with up to three presenters), or for mutual or interconnected presentations. We particularly welcome submissions oriented to one of the four main thematic complexes, described in further detail in the Call for Papers. The languages of the symposium will be German and English. All who have submitted abstracts will receive information about acceptance or rejection by October 31, 2018 at the latest.
You will find here the abstracts of the selected lectures in advance of the symposium after the selection and registration process.
Direction and Team
Prof. Dr. Günther Heeg, Director CCT, Leipzig University, Vice President IBS
Dr. Micha Braun, Academic Coordinator CCT, Leipzig University
Prof. Dr. Stephen Brockmann, Carnegie Mellon Univ. Pittsburgh, President IBS
JProf. Dr. Veronika Darian, Institute for Theatre Studies, Leipzig University
Organisation
Andrea Hensel, M.A., Helena Wölfl, Dana Soubh (CCT)
Vera Högemann, Torsten Buß (Schauspiel Leipzig)
Planning Group

Prof. Dr. Gerda Baumbach, Dr. des. Jeanne Bindernagel, Dr. Micha Braun, Prof. Dr. Stephen Brockmann, JProf. Dr. Veronika Darian, Prof. Dr. Günther Heeg, Prof. Dr. Eiichiro Hirata, Prof. Dr. Patrick Primavesi, Prof. Dr. Florian Vaßen, Michael Wehren, M.A.
Advisory Board

Ass. Prof. Dr. Jack Davis (Truman State University/e-cibs), Ass. Prof. Dr. Kristopher Imbrigotta (University of Puget Sound/e-cibs), Prof. em. Dr. Hans-Thies Lehmann (Berlin), Prof. Dr. Nikolaus Müller-Schöll (Universität Frankfurt), Prof. Dr. Markus Wessendorf (University of Hawaiʻi/Brecht Yearbook), Dr. Erdmut Wizisla (Brecht-Archiv/Akademie der Künste Berlin)