Schauspiel Leipzig sees itself as a city theatre for the city of Leipzig. An aesthetic variety as a response to the variety defining the city of Leipzig, decisive artistic signatures, lively debate and a wide range of accompanying services shape the theatre's style. Since 2013, Artistic Director Enrico Lübbe and his team have been realising their concept of a progressive city theatre in accordance with the diversity and wide spectrum of interests that can be experienced in Leipzig every day.
Schauspiel Leipzig has three venues. The programmatic work produced at the Schauspielhaus is characterised by its theatrical double projects, where antiquity and present times reflect and encounter each other, as in Die Schutzflehenden / Die Schutzbefohlenen based on Aeschylus and Jelinek or Die Maßnahme / Die Perser based on Brecht/Eisler and Aeschylus. Exploring epochal classics like Horváth, Schiller or Ibsen is an equally important part of the season's programming as are plays like 89/90, which investigate issues of the most recent part. Claudia Bauer and Philipp Preuss, both directors in residence at Schauspiel Leipzig, inform the theatre's aesthetic with their artistic signatures.
The Diskothek moved into a new venue in the autumn of 2017 and is exclusively dedicated to contemporary drama. Plays by young dramatists are premiered here and supported sustainably; memorable plays are given new perspectives. Productions of the Diskothek are regularly invited to the major festivals for contemporary drama. Thomas Köck and Katja Brunner, E. L. Karhu or Wolfram Höll are just a few of the writers whose texts have recently shaped the venue. The Residenz, located in the old cotton mill in Plagwitz is a laboratory for encounters between independent groups and the city theatre, serving as a production venue for collectives or artists working in performance arts.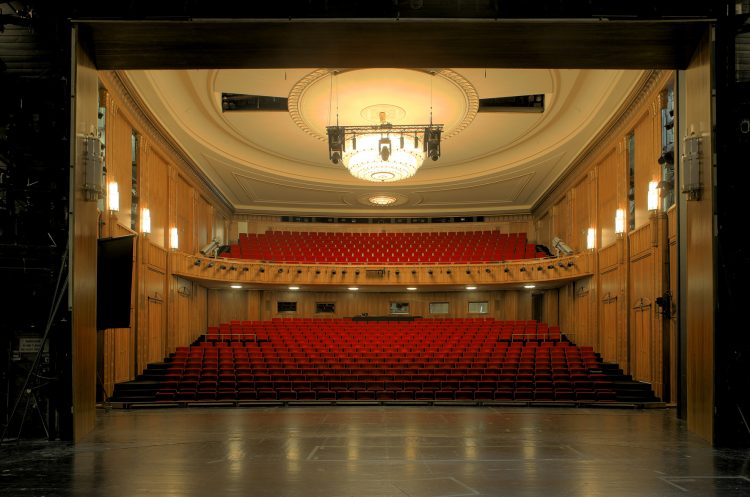 Auditorium of Schauspiel Leipzig.
Photo: Rolf Arnold/Schauspiel Leipzig
Another basic concept of the work of Schauspiel Leipzig is the principle of cooperation with numerous institutions in the city, from the Gewandhaus via Leipzig Ballet/Leipzig Opera, the University of Music and Theatre Leipzig "Felix Mendelssohn Bartholdy", the Museum der bildenden Künste, Leipzig Zoo to the Department of Theatre Studies at Leipzig University.
Participatory and educational formats as well as inclusive accompanying services help to open the theatre to a diverse audience. Schauspiel Leipzig is a pioneer in the field of audio description: There are regular repertoire performances with live audio description especially for blind and visually impaired spectators.
Since the directorate of Enrico Lübbe, Schauspiel Leipzig earned numerous awards and invitations to renown festivals in Germany and abroad. In 2017, the production 89/90 by Claudia Bauer was invited to the 54th Berliner Theatertreffen. Wolfram Höll earned two times the Mülheimer Dramatikerpreis for the world premieres of his plays at Schauspiel Leipzig (2014 Und dann, 2016 Drei sind wir). In 2015, 2016 and 2017 productions of Schauspiel Leipzig were invited to the Ruhrfestspiele Recklinghausen. Further invitations were given to Heidelberger Stückemarkt, Autorentheatertage at Deutsches Theater Berlin, to the Festival "radikal jung" as well as to the Biennale in Venice 2017.
Enrico Lübbe was in 2017 awarded with the Martin-Linzer-Theaterpreis by the theatre journal Theater der Zeit for his outstanding artistic ensemble work.